THE 49th TRANSPAC 2017 WINNER DIVISION 6
The TransPac 2225-mile race is from L.A. to Honolulu.
Unlike the previous two races, this year's race had all classes starting in the typical TransPac race wind pattern: a westerly sea breeze to the West End of Catalina, followed by increasing breezes offshore and staying more or less at 15-20 knots the entire race. The fastest boats generally sailed in more breeze in proportion to the others since the breeze dropped slightly on the course after the first finishers in Divisions 1 and 3, hence their top finishes in the overall results.
Brad will share what he had to do to prepare the boat, prepare his his mental, emotional and physical self to sail and WIN his class!
12 Days: 17 Hours: 51 Minutes: 21 Seconds
WHEN AND WHERE:

April 18, 2018 / TransPac 2017 Winner Brad Lawson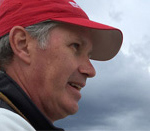 Hosted by: Richard Allen / 180 Marine
180 Marine is the fastest growing Corsair & Seawind Dealer in the United States, owned and operated by Richard Allen and Leslie Gabriel, long-time Corsair Trimaran racers, day sailors and adventure cruisers.
Time: Social 6:00 pm / Presentation 6:30 pm — 7:30 pm
Place: Pelican Club, at the Lake House in Cherry Creek State Park
Admission: FREE