JULY 3, 4, 5, 2018 EXPERIENCE A CORSAIR 760 IN LAKE GRANBY
Hop in your car and meet us this summer in Granby! You could experience Lake Granby on a Corsair 760. This high mountain Colorado lake offers 40 miles of shoreline and along with its two sister lakes, Grand Lake and Shadow Mountain Lake, offers more than 150 miles of scenic shoreline for camping and fishing.

This 24-foot trailerable trimaran brings trailer sailing to the next level. Originating from the ever popular 24 and 750 range, this new model has received a radical redesign by our partners at Perus Yacht Design.

The Corsair 760 is incredibly easy to sail, even single-handed. Sometimes you choose to be sailing alone, and sometimes it just ends up that way with the crew asleep after a great summer's day out on the water. All sail controls lead back to the cockpit. The Corsair 760 sails with almost zero heeling. It slips through the water with a minimum of fuss and gets you home quickly & safely.
Showing and demo sails by appointment only.
Contact Richard Allen/ richard@180marine.com
To top it off enjoy the Granby 4th of July celebration party! See details >>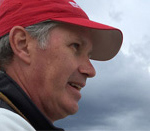 Hosted by: Richard Allen / 180 Marine
180 Marine is the fastest growing Corsair & Seawind Dealer in the United States, owned and operated by Richard Allen and Leslie Gabriel, long-time Corsair Trimaran racers, day sailors and adventure cruisers.
If you can't make it to Granby on July 3, 4, or 5, come see us at Lake Dillon at the Dillon Open Regatta August 3-5, 2018. "World Highest Regatta" See details >>