AUGUST 3-5, experience not only the high-altitude regatta but attend the pre-Dillon Open One Design Seminar given by Reed Baldridge of North Sails.
We're very lucky to have the opportunity to host a pre-Dillon Open One Design Seminar given by Reed Baldridge of North Sails. The training will consist of on-the-water coaching to learn sail trim tips, rig tune hints, boat handling guidance, ideal weight placement, and general race readiness. All skippers AND crew are welcome. Crew, please urge your skipper/boat owner to attend and LEARN. Knowledge is POWER on the race course.

PLEASE let us know if you're planning to attend. We'll post a rendezvous point once we know our number of participants. Here's the schedule:
Friday, August 3rd:
On-the-water begins at 2pm with off-the-water chalk talk at 4:15.
Dillon Open festivities with burgers, registration packet pickup and beer immediately following.
Please RSVP
Robin Jackson at: rockinrobinjax@msn.com
or
Richard Allen at: richard@180marine.com
Three new Corsair trimaran models will be racing and on display. Come up and learn about these 2 award winning trimarans the Corsair 760 and the Pulse 600.
Superior safety is inherent in the design and construction of the Corsair boats.
The Corsair 760 is incredibly easy to sail, even single-handed. Sometimes you choose to be sailing alone, and sometimes it just ends up that way with the crew asleep after a great summer's day out on the water. All sail controls lead back to the cockpit. The Corsair 760 sails with almost zero heeling. It slips through the water with a minimum of fuss and gets you home quickly & safely.
This exciting new 20′ trimaran is full of Corsair DNA modernized to meet the latest generation of sailors. On a product more compact and affordable than ever before, you can be part of the growing 180 Sail Community.

Featuring lightweight carbon reinforced construction, this boat will get your pulse racing in even the lightest of winds.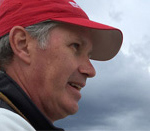 180 Marine is the fastest growing Corsair & Seawind Dealer in the United States, owned and operated by Richard Allen and Leslie Gabriel, long-time Corsair Trimaran racers, day sailors and adventure cruisers.
 
Are you looking for expert advice on these semi-custom and highly personalized Corsair Trimarans? Contact: Richard Allen
richard@180marine.com
See what others have experienced sailing and learing more about the Corsair 760 trimaran on Lake Granby, Colorado. See details >>